TWG – My Favorite Tea Brand - Florian Buechting
If I would turn Flyctory.com into a food blog, I am sure it would be a terrible fail. Nevertheless, there will be postings about eating and drinking from time to time. In this one, I want to introduce you to TWG, a Singapore-based tea brand which I met the first time on a trip to Dubai. Here are some insights why I feel it is very special.
TWG – About the Brand
Despite the label of the company may suggest a long tradition, the TWG company has been established only in 2008. In fact, the 1837 refers to year of the foundation of the SIngapore Chamber of Commerce, which feels very misleading. Home of TWG is Singapore, where they started with their first tea outlet at Raffle's Place. However, already during their first year of operation, they were able to sell their products at Dean & Deluca in New York as well. TWG nowadays offers more than 800 teas. The company regards to be a premium brand. The cheapest loose tea in their online store is about 16 SGD (10.50 Euro) per 100g, which you can also spend up to 1,500 EUR per 100g for a rare Japanese Green Tea. While loose tea is the typical way of buying TWG tea, there are also cotton (!) TWG tea bags.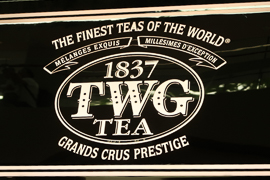 TWG – Stores
The first time I got in touch with TWG was at their outlet in the Mall of the Emirates in Dubai. Most of the TWG stores are in the Asian-Pacific region, but there are also outlets in Vancouver or in London. The London Leicester Square one is currently the largest TWG store. The standard assortment also covers luxury tea goods like pots or cups. I visited a couple of stores, like the outlets in Dubai, Taipei, Singapore and London. Singapore Changi Airport features multiple stores, more or less one in each terminal. The major stores also offer a cafe or restaurant. I dined twice at TWG, once in one of their hometown locations in the Shoppes at Marina Bay Sands and once in London at the Leicester Square (see below).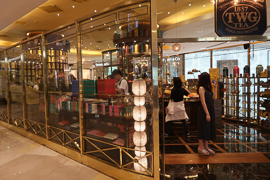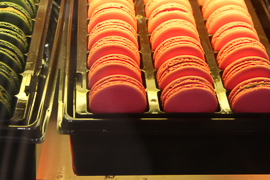 Dining at TWG
I tried out dining at TWG twice. The first one was in the Shoppes at Marina Bay in Singapore, where the dining area is separate from the store (which is closeby). The TWG cafe is beautifully located. I had a Club Sandwich for dinner, coming with an iced tea (you can have any tea on the menu as iced tea as well). Of course, I did fancy to have a desert as well. Overall, I paid some 40 Euros for that.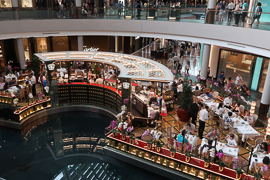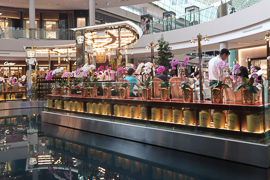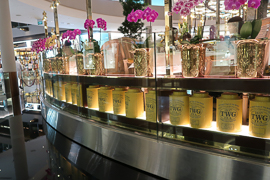 The TWG Cafe area at London Leicester Square is located on top of the store. We had Afternoon Tea there, which is served from 14:00 to 18:00 hrs there, no dress code. The set including scones, some sweet delights and sandwiches was roughly 60 GBP, including service charge, for two people. You may select from all teas – the posher ones are available with a supplementary payment. Not as posh as at the Emirates Palace in Abu Dhabi, but definitely a nice tea time – with amazing teas.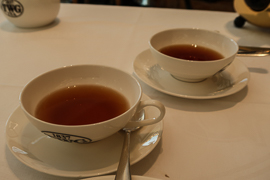 Both places serve dinner and afternoon tea, by the way.
TWG – My Favorite Flavors
What you do like (and what you don't like) is of course a very individual thing. Thus, I am just proposing you some of my very personal favorites – maybe you like them, too:
Moroccan Mint
For many, many years, peppermint tea was a drink you take when you are ill. Nowadays, mint teas, especially the Arabic / Moroccan ones are one of my absolute favorites. TWG's interpretation of a

 

Moroccan Mint

 

tea is based on green tea and absolutely delicious.
Earl Grey Buddha
Earl Grey blends with the lovely touch of bergamotte are definitely one of my favorite sorts of tea. TWG offers a massive selection of Earl Grey blends. The Earl Grey Buddha was the first tea I ever bought at the brand – and it is still one of my absolute favorites. Like the

 

Moroccan Mint

 

tea mentioned above, it is based on green tea, not on black one.
Comptoir Des Indes
I love chai teas – either to a meal or just as a herb relaxation drink. Comptoir Des Indes

 

is one of TWG's chai interpretations, a nice combination of black tea and spices.
Tea Party Tea
This is the only tea in the list which you can only buy as loose tea, not in tea bags (which is in fact true for most tastes). The Tea Party Tea

 

is a black tea, which is infused with aromatics like vanilla and honey. Lovely!
Silver Moon
The Silver Moon

 

tea is my favorite on the fruity side. Very aromatic with taste of berries with a touch of vanilla. Again, this is a green tea-based infusion.
TWG – My View
TWG made me even more a tea person. I love their flavors and the amazing quality. It is a bit odd how the seem to fake "tradition" though the company is just ten years old. Overall, I can absolutely recommend to give TWG a try – just by shopping tea or having some dining or Afternoon tea.
If it is worth to spent about one Euro for a single tea bag, you need to decide individually. However, if you go for a good gin or whiskey, you may end up in much higher investment per portion. It is a luxury good – and something which may make you enjoy your life a little bit more. At least, I feel that TWG delivers the quality which is justifying the price tag. For good quality at a more budget-friendly price, I would recommend the teas by Fortnum & Mason, German Eilles company or – cheaper, but a good value for money – Twinnings.
---